Eagle Iron Works has a great network of dealers around the globe that stock, sell and service our equipment. We will spotlight a different dealer and provide information on the equipment they sell and the services they offer, as well as how to contact them for your washing and classifying equipment needs.
Process Machinery Inc. represents EIW equipment in Kentucky, Ohio, Indiana, Tennessee, Alabama and northern Mississippi
Process Machinery Inc. (PMI) has been an Eagle Iron Works dealer since 1990. During this 30-year partnership, PMI has installed countless pieces of EIW equipment at sand and gravel sites in Kentucky, Ohio, Tennessee, Indiana, Alabama and northern Mississippi.
About Process Machinery Inc.
Locations:
Alabama
Indiana
Kentucky
Northern Mississippi
Ohio
Tennessee
Eagle dealer since: 1990
Eagle equipment offered:
Attrition Scrubbers
Classifying Tanks
Coarse Material Washers
Dewatering Screens
Fine Material Washers
Log Washers
Pug Mill Mixers
Sol-Clay Washers
History of Process Machinery Inc.
PMI was founded in 1979 in Louisville, Ky., by David H. Miles and his father, William F. Miles, based on a need for a full-service provider in the aggregate industry. Today, PMI is owned and operated by the third generation of the Miles family, Daniel Miles and Jennifer Miles Ratterman, from a 100,000 sq. ft. manufacturing facility in Shelbyville, Ky.
PMI became an EIW dealer for Kentucky and Indiana in 1990 after PMI's David Miles, Bill Miles and Ron Gerow, all of whom had ties to EIW through previous employers, approached the company about regional product representation through PMI. In 2002, PMI became the EIW dealer for Ohio.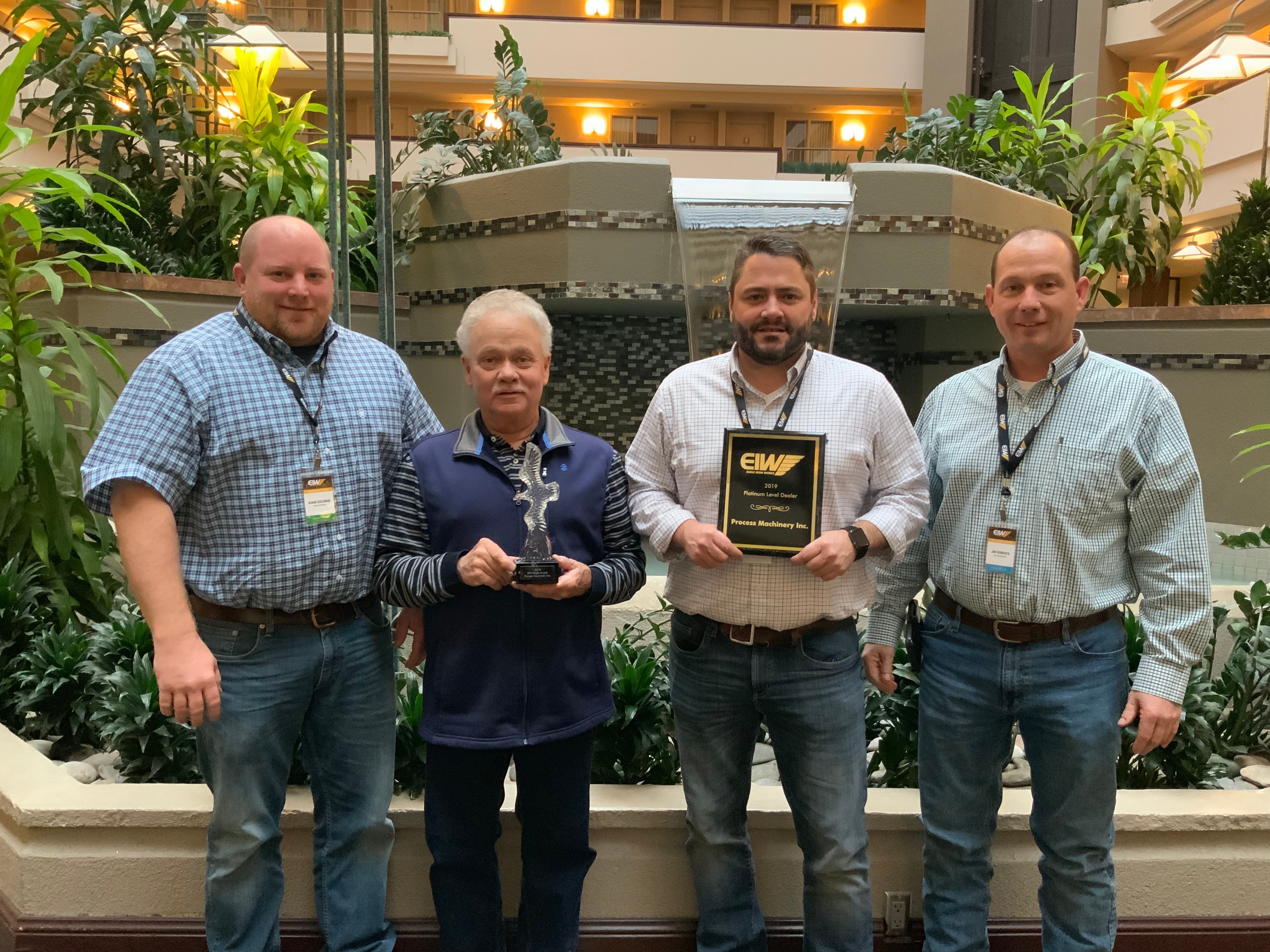 Process Machinery Inc. received EIW's 2019 Award for Top Dealer during EIW's Dealer School in January 2020.
"Over the years, the EIW/PMI team became the go-to team when it came to mineral aggregate beneficiation for the three states," PMI said. "Our success was grounded with the iconic EIW product line and PMI's strong application knowledge, premium engineered systems capabilities, and unequaled parts and service support. We are most proud of our success as a team."
PMI has since come to represent the EIW line in Tennessee, Alabama and northern Mississippi in addition to Kentucky, Indiana and Ohio.
Services Offered
PMI represents EIW's entire line of washing and classifying equipment, including Attrition Scrubbers, Classifying Tanks, Coarse Material Washers, Dewatering Screens, Fine Material Washers, Log Washers, Pug Mill Mixers and Sol-Clay Washers. The company always tries to keep an EIW 44" Double Fine Material Washer and 54" Single Fine Material Washer in stock, as these are the sizes commonly used to process fine aggregate in PMI's region.
Attrition Scrubbers
Attrition Scrubbers from EIW provide high-intensity grain-on-grain scrubbing to result in a clean, usable material. Featuring a heavy-duty design with rubber lined wear surfaces, five-bladed propellers and direct drive reducer, EIW Attrition Scrubbers are designed for long service life and ease of maintenance.
Classifying Tanks
EIW Classifying Tanks remove large volumes of excess water and sand particles from a slurry feed for a consistent, in-spec product. With a large settling area for retaining fine particles and adjustable weirs for out-of-level conditions, the EIW Classifying Tank is ideal for producing a primary concrete sand, as well as secondary and tertiary sands such as masonry and asphalt sand.
Coarse Material Washers
EIW's classic Coarse Material Washers and standard CONDOR Coarse Material Washers are designed to meet the specific scrubbing needs of the application. These machines feature alternating corrugated paddles and screw flights that help remove soluble clays and dust coatings from natural and crushed stone applications.
Dewatering Screens
EIW Dewatering Screens are designed to put the finishing touches on a partially dried product. They can improve the moisture content of the final product to as low as 7% for next-day sale. EIW Dewatering Screens can be a standalone option for producing a drip-free, stackable material, or they can be combined with an EIW Fine Material Washer to create the Eagle+ System.
Fine Material Washers
Fine Material Washers from EIW wash, classify and dewater fine aggregate material. They are available in a single or double screw configuration and in a wide range of length for handling small and large capacities. EIW CONDOR Fine Material Washers are offered as a standard option.
Log Washers
EIW Log Washers are designed for heavy-duty scrubbing applications. They feature massive, oversized paddles for total surface area scrubbing to remove tough, insoluble plastic clays, and intermeshing shafts to provide maximum rock-on-rock scrubbing. The dissolved clay and other contaminants are removed with the overflow.
Pug Mill Mixers
Pug Mill Mixers from EIW can be used in many applications, including cold-mix and hot-mix asphalt, stabilized base materials and soil remediation projects. These high-capacity continuous mixers provide a thorough mixing of multiple materials via intermeshing shafts with corrugated, reversible paddles. A flow meter and spray bars provide product moisture control if required by the application.
Sol-Clay Washers
EIW Sol-Clay Washers are ideal for removing stubborn soluble clays and crusher dust and fines. They feature corrugated face paddles for maximum scrubbing and rising current manifold to flush out the liberated deleterious material out of the wastewater. Sol-Clay Washers are designed for medium-duty scrubbing applications.
As a full-service dealer, PMI offers complete support for EIW equipment, including application, installation, start-up, training, and field service maintenance and repair. The company offers equipment inspections and keeps a full stock of EIW parts on the shelf for rapid deployment. PMI's team is highly skilled in processing applications and trained on Eagle Iron Works equipment by the EIW team. The company also offers a 24-hour emergency service hotline for after-hours support.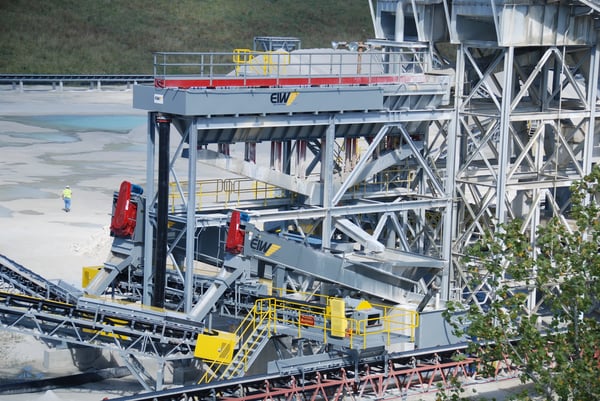 An EIW Classifying Tank and Screw plant installed by PMI.
Contact Information
PMI is headquartered in Shelbyville, Ky., with a branch office located in Columbus, Ohio. To learn more about PMI, visit processmachinery.com, or contact one of its offices below.
Corporate Office
1636 Isaac Shelby Dr.
Shelbyville, KY 40065
1-800-860-1523
Ohio Office
860 Kaderly Dr.
Columbus, OH 43228
1-866-249-4330