Eagle Iron Works has a great network of dealers around the globe that stock, sell and service our equipment. We will spotlight a different dealer and provide information on the equipment they sell and the services they offer, as well as how to contact them for your washing and classifying equipment needs.
ICM Solutions Represents EIW Equipment in Arizona, Idaho, Nevada, Utah and Wyoming
ICM Solutions became an Eagle Iron Works dealer in August 2018 to further expand their product offering within the industries they serve. They represent EIW's line of washing and classifying equipment in Nevada, Idaho, Wyoming, Arizona and various locations in Utah.
"EIW is dependable and overall a great product," ICM Solutions said.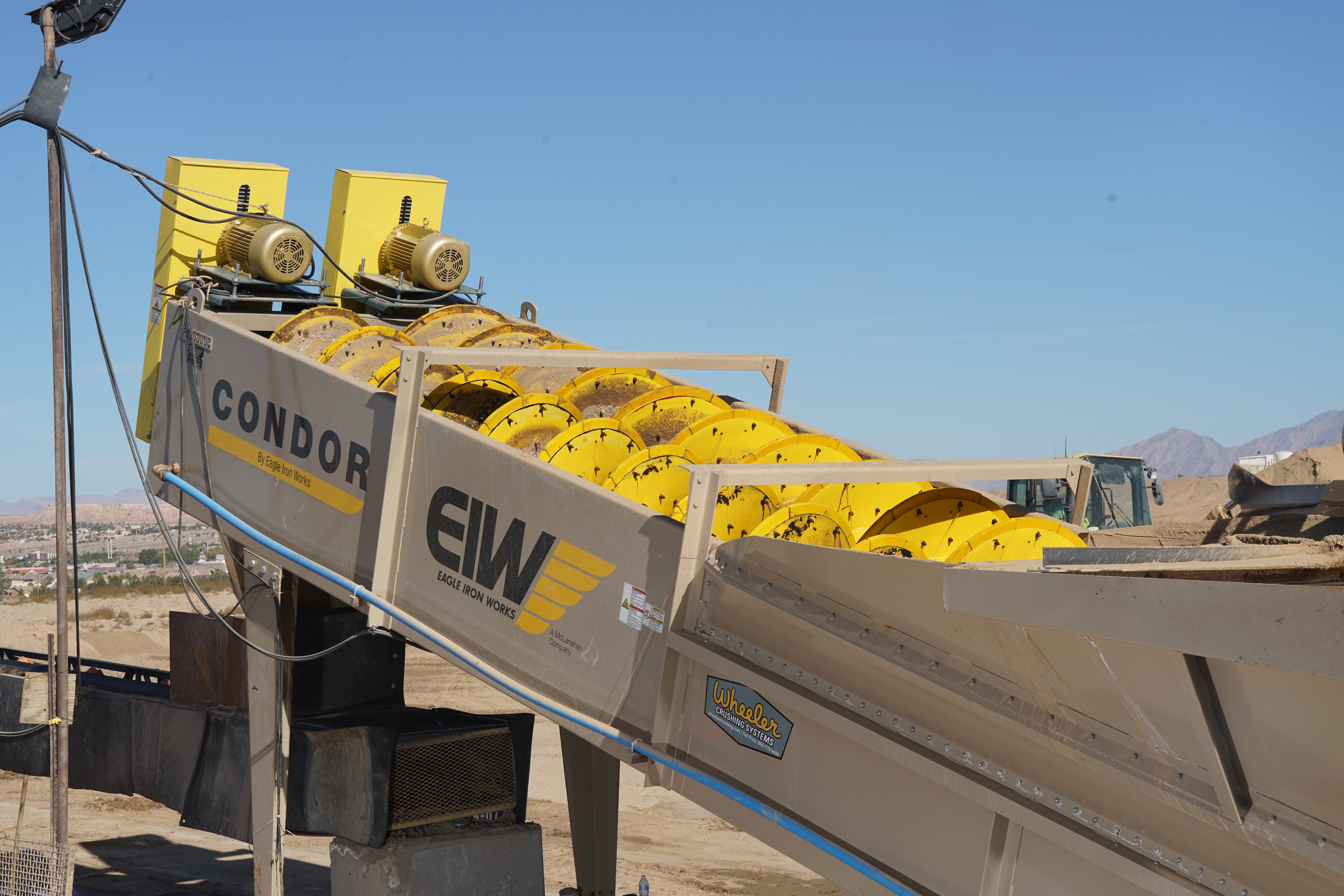 One of several installations of Eagle Iron Works equipment by ICM Solutions, this CONDOR Fine Material Washer has doubled production at Precision Aggregate in Mesquite, Nevada.
About ICM Solutions
Locations:
Nevada
Idaho
Wyoming
Arizona
Utah – various locations
Eagle dealer since: 2018
Eagle equipment offered:
Classifying Tanks
Coarse Material Washers
Dewatering Screens
Fine Material Washers
Log Washers
Portable Plants
Pug Mills
Sol-Clay Washers
History of ICM Solutions
ICM Solutions launched in 2020 with the merger of Wheeler Crushing Systems, who had been an EIW dealer since 2018, and WMC Machining and Fabrication. Industrial, Crushing and Mining Solutions provides the complete package with a workforce of best-in-class machinists, fabricators, engineers and application experts paired with the top manufacturers of crushing, screening, environmental recycling and concrete paving equipment.
Like Eagle Iron Works, ICM Solutions believes in creating successful, long-lasting partnerships with their customers that help them make the most of their equipment and processes. These partnerships extend far beyond the sale of equipment to include technical, product, parts, process and service support.
Services Offered
As an Eagle Iron Works dealer, ICM Solutions represents the following EIW equipment:
Classifying Tanks
Eagle Iron Works Classifying Tanks remove excess water and sand from slurry feeds, which makes them ideal for dredging and pumping applications and applications with high silt materials, but they can also accept a dry feed. These effective and low-maintenance machines produce multiple consistent products from one feed material. Featuring a large settling area to retain fine mesh particles, EIW Classifying Tanks can handle gradation swings in the feed and minimize waste.
Coarse Material Washers
EIW Coarse Material Washers scrub rock clean of deleterious materials such as water-soluble clays and dust coatings. Alternate paddles and spiral flights on rotating screw shafts break down and dissolve the deleterious materials, which then are removed with the wastewater over the weirs. Coarse Material Washers from Eagle Iron Works come in either double or single screw configurations, and feature either a heavy-duty Eagle gear reducer on the classic models or a Dodge TA II gear reducer on the CONDOR models.
Dewatering Screens
Eagle Iron Works' Dewatering Screens are specifically designed to put the finishing touches on a partially dewatered product from a sand screw. When following a Fine Material Washer, which typically discharges material at around 20% moisture content, the EIW Dewatering Screen can reduce the moisture content to as low as 7% for quicker sale. EIW Dewatering Screens can be a standalone solution to improve final product dryness, or they can be paired with an EIW Fine Material Washer to create the Eagle+ System.
Fine Material Washers
Fine Material Washers from Eagle Iron Works provide three main functions: washing, dewatering and classifying fine solids. With extra-wide side flares for maximum product retention, EIW Fine Material Washers feature adjustable weirs for classification in out-of-level conditions. As the clean sand is conveyed up the inclined tub by the rotating spiral screw shaft, excess water drains back into the washer tub so that the final product discharging off the end is drier and more salable. Single and double screw configurations are available. EIW Fine Material Washers are also offered with a Dodge TA II reducer as part of Eagle Iron Works' CONDOR line.
Log Washers
EIW Log Washers remove tough, insoluble plastic clays. Designed specifically to handle heavy-duty scrubbing applications, EIW Log Washers feature massive oversized paddles to provide a high level of force against soft materials. The paddles are corrugated to provide total surface area scrubbing. The dissolved clay and other contaminants are discharged with the wastewater over the weir.
Portable Plants
Eagle Iron Works offers Portable Plants for producers with multiple sites. Portable Plants are built onto a wheeled chassis that meets Department of Transportation standards. These plants are pre-wired, quick to set up and can be easily transported from site to site. EIW offers both Portable Classifying Tank Plants, consisting of a Classifying Tank and Fine Material Washer on a wheeled chassis, and Portable Screen and Screw Plants, consisting of a Horizontal Wet Sizing Screen and Fine Material Washer on a wheeled chassis.
Pug Mills
Eagle Iron Works Pug Mill Mixers are high-capacity continuous mixers that can be used in stabilized road base material preparation, cold-mix asphalt trains and hot-mix asphalt plants, and soil remediation projects. Featuring intermeshing mixer shafts built from high-grade, one-piece, thick-walled steel tubing, EIW Pug Mills provide a thorough mixing of multiple materials. If required by the application, spray bars and a direct reading flow meter help control product moisture levels.
Sol-Clay Washers
Sol-Clay Washers from EIW remove stubborn soluble clays, crusher fines and dust through particle-on-particle scrubbing facilitated by intermeshing corrugated paddles that run the entire length of a rotating shaft. The deleterious material is broken down into the slurry, and dissolved material is discharged through the side gates. EIW Sol-Clay Washers are designed for medium-duty scrubbing applications.
In addition to offering Eagle Iron Works' line of washing and classifying equipment, ICM Solutions provides spare parts support, product training and more to help their customers maximize their equipment, increase their production, improve their process and quality, reduce their operating costs, enhance the safety of their personnel, and reduce their energy consumption.
ICM Solutions is continuously looking for ways to improve their processes so that they can provide the most value to their customers. With more than 65 years in the heavy equipment industry, they have a knowledgeable and skilled team that will deliver solutions that help their customers be more profitable, more efficient and more effective in their day-to-day business.
Contact Information
ICM Solutions is centrally located in Salt Lake City, Utah. For more information about ICM Solutions, visit their website at icmsolutions.com or contact them at their offices listed below.
Utah Office
4899 West 2100 South
Salt Lake City, UT 84120
Phone: 800-779-4450
Fax: 801-978-1880