This is the fourth in a series of answers to common questions about sand washing equipment.
Industry experts Daniel Miles, P.E., President of Process Machinery, Inc.; Dave Schellberg, Product Support Specialist, EIW; and Mike Woolford, Sales/Territory Manager at Dibble Equipment, answer some common questions about sand washing and sand washing equipment.
During your webinar, Why Having Choices Matters, you discussed the pros and cons for screws and cyclones — what about the pros and cons between different screw manufacturers?
Mike Woolford: This is surprisingly easy for me to answer because I've done a lot of thinking about it and I've sold nearly every major manufacturer out there. You name it — I bet I've sold it over the years.
The Eagle Iron Works classic screw washer is the best screw washer available to my knowledge.
It's the best for several reasons, but the most important reason is the drive and the gear case. You'll note that I didn't call it a reducer because the EIW gear case is not just a gear case, it's also the front shaft support.
The front shaft support is contained within the oil bath of that gear case. There is no pillow block bearing at the front of an EIW classic washer. The shaft is supported within the oil bath of the gear case, which also houses the incredibly large reduction gears.

The reduction gears are so large that they allow us to accomplish a speed change of nominally 25% speed all the way to 100% speed with nothing but a sheave change.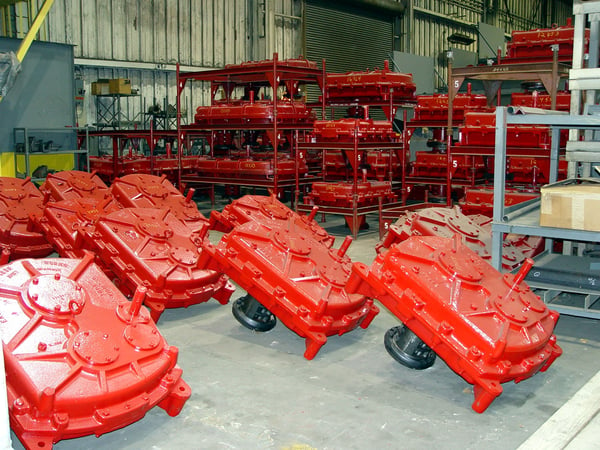 EIW gear reducers.
I can't tell you when that design met paper, but the simplicity of that design — building the largest reducer you've seen and integrating the front shaft support into that reducer's oil bath, thereby completely removing the need for a pillow block bearing to support the shaft — was a stroke of genius because that pillow block bearing is hard to see and hard to grease.
When you fail to grease it, then it does eventually fail, and it takes out the reducer, and then you're replacing both.
"I'd put the EIW Fine Material Washer in the Aggregate Equipment Hall of Fame, right next to the Hewitt Robins Grizzly King Jaw and the Nordberg Symons 7' Cone." - Mike Woolford, Dibble Equipment.
The best part of the EIW Classic Fine Material Washer is how incredibly heavily it's built and how well it lasts.
I have EIW washers in my territory where the customer has taken the reducer off an existing 30-year-old washer, bought a new tub, shaft and overflow weirs, and bolted the old reducer on the front and kept running it. I have Eagle Iron Works Fine Material Washers in my territory that are older than me, and I'm 54.
There is at least one foreign screw manufacturer that appears to have reverse engineered a screw washer built here in North America. This manufacturer has made inroads into our market by selling those screws built in Asia back here in North America.
When they copied that screw, whose screw did they copy?
Eagle Iron Works.
At least they copied the right one.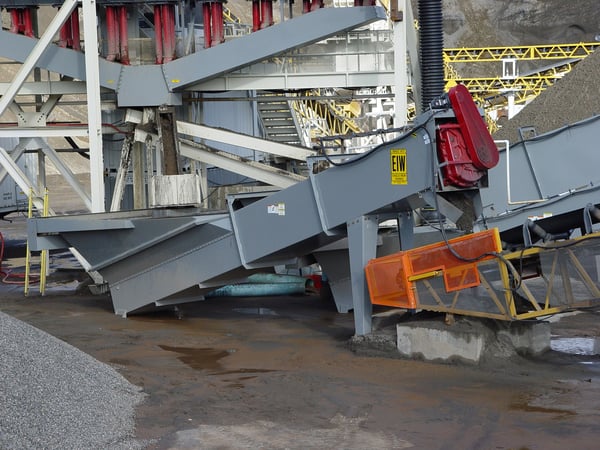 EIW Fine Material Washer.
Daniel Miles: Unlike what many people want to believe, all screws are not created equal.
I tend to believe that the Eagle classic screw is the benchmark that all other screws are measured against. It's well-defined and product-proven over years and years of service.
The competitive screws have copied that machine in one form or another and tried to give perceived advantages that may attract to one person or another.
I can tell you that we have sold Eagle for over 35 years, and we have rebuilt machines that we sold in the early days that still run every day of the week. We put new tubs in them, replace flumes, shafts, bearings, etc., but we rarely ever touch the gearboxes.
"To me, a machine like the Eagle Classic is a long-term investment in your operation that will stand by you and run without worry. A screw should be just that (the machine you don't worry about)." - Daniel Miles, Process Machinery, Inc.
I think when comparing machines, you really need to look at what is different and why.
Metal thickness is a good example. From a mechanical design standpoint, tubs could be thinner, shafts can be thinner, and the machine still meets mechanical design criteria that is acceptable. That extra material is going to pay off at some point because the metal doesn't fail, it wears out due to material wear. It could be another two to five years of operation without replacing a shaft or having to re-plate a tub.
These are major downtime issues that seem distant when writing the check for a new machine will cause regrets when you deal with them in the future.
Another area I think gets overlooked is horsepower. Some machines use or get set up with lower horsepower than standard due to specific design criteria (or a manufacturer uses less power as standard).
This may be fine for the specific application, but it is not uncommon to have to change a setup on a machine.
Maybe the plant gets upgraded and a scavenger system is installed. Maybe that extra power gets used when the plant gets flooded and suddenly the screw is overloaded. That extra power seems expensive and unneeded until you have to shovel out the machine one time.
Just things to think about. The lower power lets you use thinner shaft material and ultimately develop a cheaper machine.
Metal is smart.
It only makes you use what is needed to do a job. If you have extra material, metal doesn't care. The extra material that is not needed the day the machine rolls off the truck comes into play five years down the road when 1/8" of the original material is gone. The thinner metals begin to fail and the thicker metals still have safe operating margins to work with.
That's when it pays off.
Its also important to look at settling area and weir length. This is probably the biggest area where people can be misguided on different machines.
Almost every machine makes its #150 mesh cut at a different gallons per minute than the rest because of different geometry. This should carry through on the #100 and #200 mesh splits.
It takes pool area and weir length to make a split. A ton per hour of material lost to the pond seems like it could be insignificant, but that's 2,000 tons per year every year that machine operates.
"As a buyer, don't assume all machines are created equal, and be sure to look at the total cost of ownership with your purchase." - Daniel Miles, Process Machinery, Inc.
The last thing I think is important to look at is the rising current manifold design.
It's not just a pipe with some water, its purpose is to aerate the material and float it out, to create suspension. This is done with a gentle influx of water over the pool area across a broad area. Some manifolds do a better job of this than others, so this is something to pay attention too.
The Eagle Fine Material Washer has been around for a long time, and the people that developed the machine understood what they were trying to do when they designed it. Why they put flush water in, why they developed the rising current manifold the way they did, why the geometry of the machine was set up the way it was, etc. — it was the best balance they could develop to a machine for its purpose.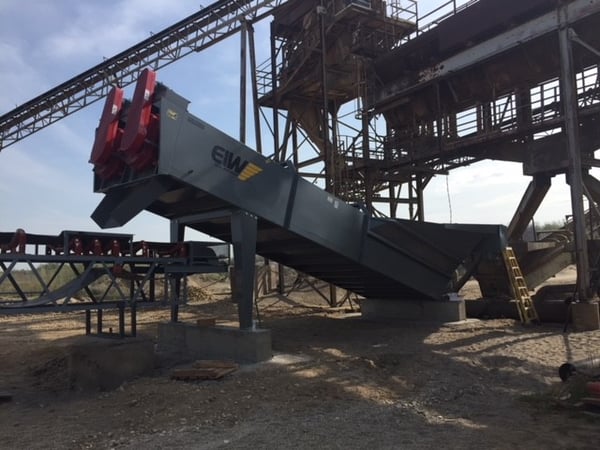 EIW Fine Material Washer.
Dave Schellberg: EIW's Fine Material Washer's design features have been copied by more than one competitor over the years. It is truly amazing to look at the other guys' machines in operation and hear sad horror stories of failures such as:
The reducer box may look the same as an Eagle on the outside, but on the inside, failed gears and a lack of parts support have caused a significant amount of loss of production and significant downtime.

The tub on a competitor's machine had a hole wear through in less than a year.

The rubber flight shoes on another competitor's new machine touted as being superior in performance were gouged by a sharp, angular manufactured abrasive sand that caused the sand producer to outsource hard iron +500 Brinell wear shoes from others, which held up substantially better. EIW's standard Eagle Armor iron alloy wearing shoes meet or exceed a 500 Brinell hardness

A sand producer a couple of years ago complained about the loss of product sized +200 mesh sand to his settling pond from his recently purchased 44" x 32' twin sand screw. When doing a comparative review of his unit's water volume capacity in looking at product literature, he discovered the machine's tub design, while cheaper in cost, had more than 15% less water volume capacity in comparison to a same sized Eagle Iron Works Fine Material Washer.
You get what you pay for! You won't go wrong when you call your Eagle Iron Works dealer!
This concludes our series on answers to common questions about sand washing equipment. If you have additional questions for one of our experts, please contact us.