This is the first in a series of answers to common questions about sand washing equipment.
There are many types of sand washing equipment, with sand screws, cyclones and sand tanks being common choices for producing clean specification sand.
With multiple choices, how do you know which is the best equipment for your site?
Industry experts Daniel Miles, P.E., President of Process Machinery, Inc., and Mike Woolford, Sales/Territory Manager at Dibble Equipment, answer some common questions about sand washing and sand washing equipment.
What are some adjustments we can make to a Coarse Material Washer that would allow a bank-run gravel crushed to 1" minus to be dry enough to convey after discharge? It's rather soupy now and not necessarily conveyable, especially up a sloped belt.
Mike Woolford: Coarse Material Washers are not designed to accept -3/8" material — that's why they have such a short dry deck, which is the inclined plane they auger material up against. A 36" EIW Coarse Material Washer is 18' long.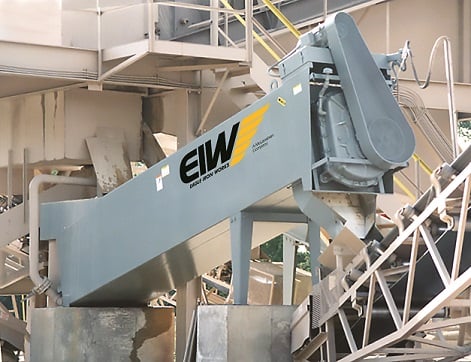 Coarse Material Washers have a short dry deck area.
A 36" EIW Fine Material Washer is 25' long and has a leaching channel off to the side of the screw, which is kept clear by a washback. That leaching channel is the key to dewatering material when you're pushing it up an inclined plane. It gives the water contained within the fines that are being pushed up the washer a path of least resistance back to the water in the pool. Water seeks its own level and wants to run downhill — that leaching channel gives it a way back down to the pool.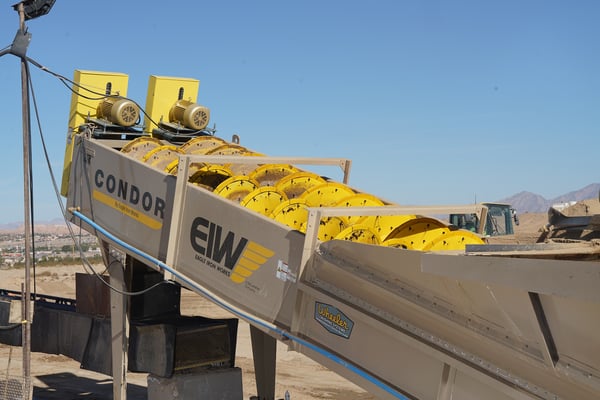 Fine Material Washers have a longer dry deck area with a leaching channel for dewatering material as it is conveyed up the incline.
Coarse Material Washers don't really have leaching channels or have room for them. We do lay Coarse Material Washers down horizontally and feed them -2.5" fines and coarse material, but when we do that, our very next stop is typically a wet screen. We know from experience that such material is not typically easily conveyable, and especially not conveyable up an incline.
Fines trap moisture. A Fine Material Washer doesn't have the clearance to accept larger material, and a Coarse Material Washer isn't designed to accept fine material.
"I'd screen the material first and then wash it in either a Fine Material Washer or a Coarse Material Washer." - Mike Woolford, Dibble Equipment
---
For customers who prefer cyclones, what do they discharge to? A Dewatering Screen? Screw? Pile?
Mike Woolford: Cyclones can discharge to Dewatering Screens, screws or piles. In my region we see a fair amount of all three.
If you're looking for an economic option, discharging directly to the pile is easily the cheapest. You can hang a single cyclone or separator on a tower or on the end of a radial stacker, and I've built several rotating separator towers that discharge directly onto the ground. They work fine, but the material is nothing approaching dry.
If you need dry material, keep reading. If you can wait a week or so and load out of the dry side of the pile, then just discharging to ground works fine. It's the simplest solution, and I've done it quite a bit.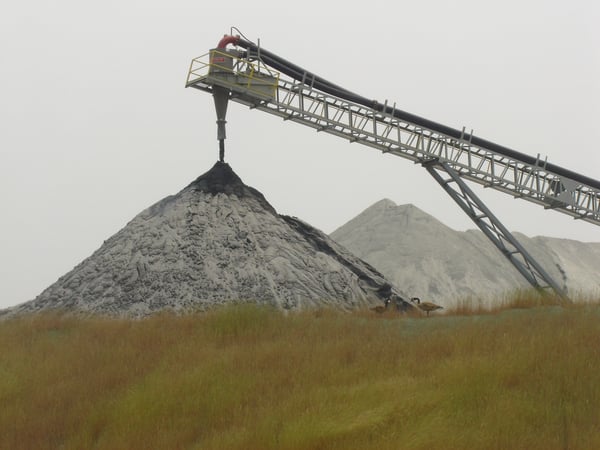 A separator discharges to a stockpile.
Discharging to a screw is not common in my area, but it does work very well if you have very slimy material. Remember, a cyclone or a separator is sending fines and water out the top and material out the bottom, so it's one stage of de-sliming. It reduces the amount of -200m fines in your product, just like a screw does. If you run your material through a cyclone or a separator and then into a screw, you are in effect double washing it.
This is common in my territory when you have extremely dirty material. We see people putting material through a tank, then a cyclone and then into a screw. I also have people putting material into a tank, then a screw and then another screw for a similar double washing effect.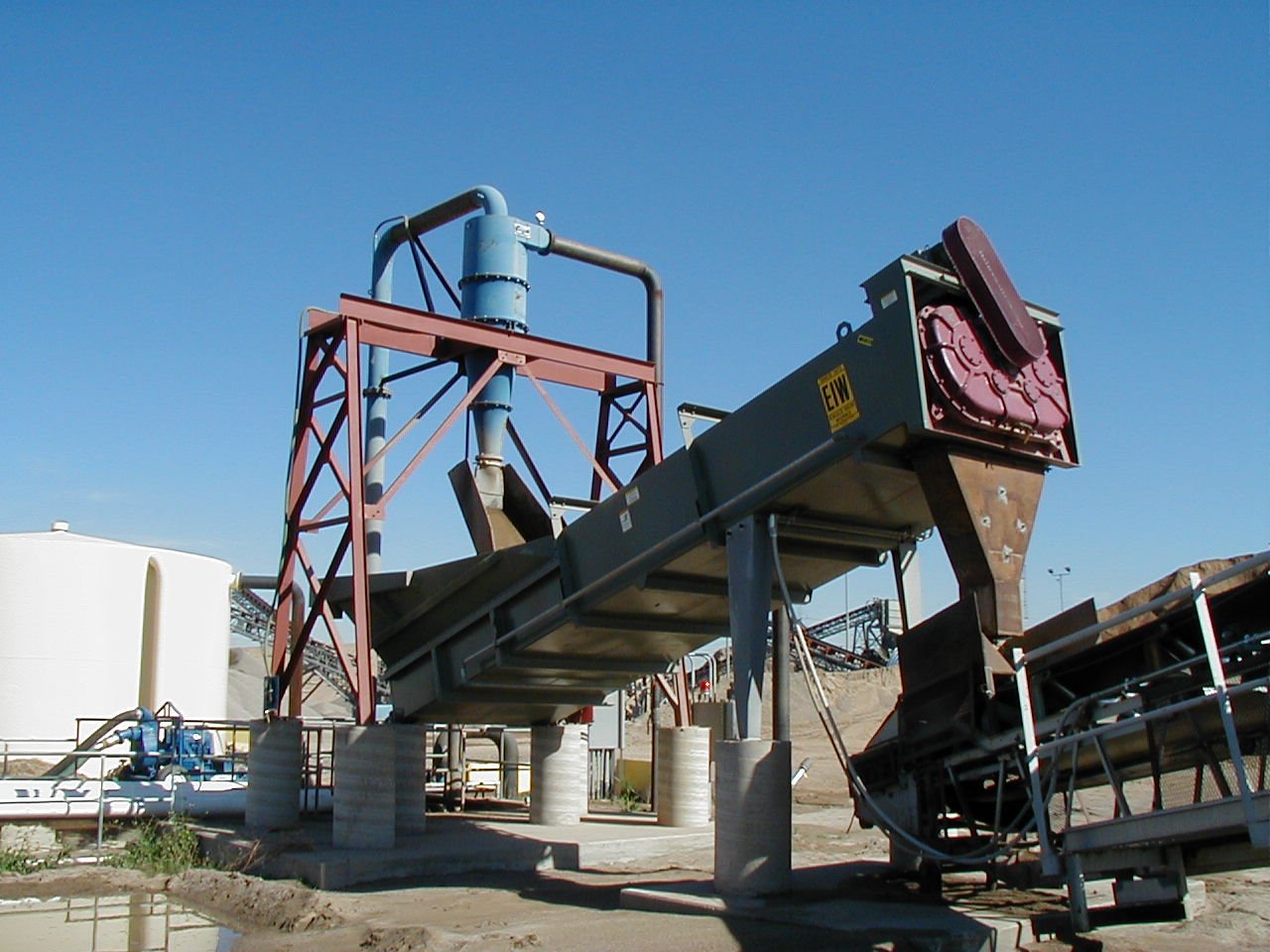 A separator discharges to a Fine Material Washer.
Discharging onto a Dewatering Screen is definitely popular — they're great complementary pieces of equipment. Cyclones and separators are great at catching fines, and Dewatering Screens are great at making a very dry product.
Dewatering Screens don't handle widely varying feed tonnages well — and when you get above 300 tons per hour, then you're typically into a second Dewatering Screen to handle the tonnage.
However, Dewatering Screens are very popular, and tons of people are selling them. I'd just be aware of exactly where the wear parts for the pump and the cyclones or separators are coming from. You'll need a steady stream of those parts. If they were coming from somewhere offshore, I'd need a little convincing that they'd be ready for me when I needed them.
"If very dry product is one of your biggest concerns, then you probably just bought yourself a Dewatering Screen." - Mike Woolford, Dibble Equipment
Daniel Miles: We see mostly Dewatering Screens and screws. In our area of the country, customers want to create a drier product, so they tend to discharge onto a Dewatering Screen. This usually gets us around a target moisture of 10% versus 20% (or more) in a screw discharge. We also see people wanting to discharge onto Dewatering Screens when they are shipping the material by boat/barge.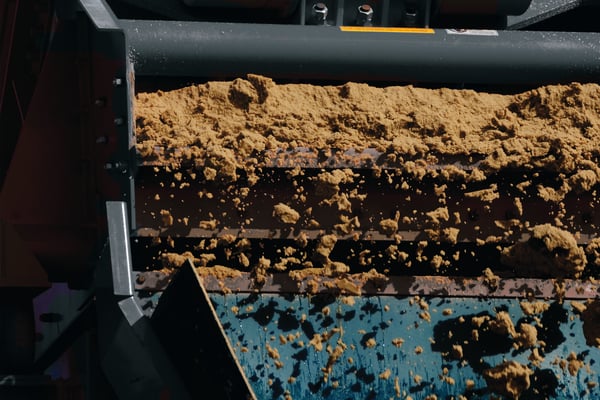 Dewatering Screens discharge a drip-free material for quicker sale.
We have several operations that discharge directly into a screw, as this is usually dealing with an undersized screw trying to capture product that is going over the weirs and putting it back into the discharge.
I would say that our region has 80-90% of cyclone / separators discharging onto a Dewatering Screen (or screw for recapturing fines) and maybe 10% going directly to the pile.
Additional questions will be answered in upcoming blogs. If you have a question for one of our experts, please contact us.